This "Art of the Wheel" exhibition will celebrate our transportation corridor history and its future. This show will expand upon the interest and range displayed at the 2014 Hubcap Art Show.
Location: 1560 Teller St, Lakewood 80214
KEY DATES:
-Exhibition: July 29th – August 29th
-Gallery Open Hours – Tuesdays through Saturdays, 1-4pm, plus additional dates & times as listed at 40 West Gallery Homepage
-Opening Reception: Wednesday, July 29th, 2015, 5:00-7pm at 40 West Gallery
-Saturday, August 8th, 2015: Open 12-6pm; Extra hours at the gallery in conjunction with West Colfax MuralFest, occurring ½ block adjacent.
SHOW ARTISTS:
We are pleased to feature the terrific work of the following participating artists in this exhibition. 
Henry Anderson – Oil painting (handersonarts.com)
Suz Alvord – Photography (www.originalsbysuzanne.com)
Steven August – Photography
Dave Barry – Photography (barrypro.com)
Mackenzie Beavais-Nikl – Photography
Marcia Brill – Mixed Media, Pencil, Watercolor
Charlie Casper – Digital Art (www.lakewoodartscouncil.org/coop.htm)
Roger Clark – Mixed Media
Alexandra Dauz – Pyrography (alexandradauz.tumblr.com/)
Richard Eversley – Video and Digital Prints (richardart.us)
Barbara Gal – Photography
Kathy Mitchell-Garton – Mixed Media (kathymitchellgarton.com)
Heather Green – Photography (heathergreenphotography.com)
Jim Miller – Photography
Max Miller – Wheel/ Mixed Media
Jill Mustoffa – Photography (JillMustoffa.com)
Bruce Nall – Photography (selectimage.net)
Mary Nehls – Mixed Media
Wendy Scheck – Real Metal Finished Objects (www.liquidmetalcoatings.com)
Greg Squires – Watercolor
Ken Takahashi – Photography
Pati Tyler – Photography
Blake Wilkinson – Mixed Media (blakewilkinson.wordpress.com)
Jean C Wilson – Mixed Media



 Niza Knoll Gallery
http://www.nizaknollgallery.com
915 Santa Fe Drive on Denver's Art District on Santa Fe
Gallery Hours:
Wed – Thurs, 1 – 5 pm
Friday, 1-5 pm
First & Third Friday, 4 – 8 pm
Sat, 1-4 pm
or by appointment
After a one year break, the Annual Gone to the Dogs Juried Exhibition is back for it's 6th year at Niza Knoll Gallery, 915 Santa Fe Drive, from July 17 – August 22, 2015. This year the call for entries was expanded to accept work by artists from across the nation. The show includes works in a variety mediums and representations of our beloved canine friends. The public is invited to view and purchase artwork during regular gallery business hours and during the following special events:
Opening and Artists' Reception: Third Friday, July 17, 5-8 pm
First Friday ArtWalk: August 7, 5-8 pm
Third Friday Collector's Night: August 21, 5-8 pm
The exhibit was juried by Artist Aliki McCain who oversaw the running of ArtHaus Gallery for four years. She obtained her Masters of Fine Art and her Bachelors in Art History at University of California Irvine. She is interested in the human condition and examines these relationships in her work. As a photo realist drawer, she currently challenges herself to see things abstractly and solve problems as they occur organically in the painting process.

Join 40 West Arts for our 4th annual INSPIRE show: "Wonders of Nature": an arts exhibition celebrating the colors and textures of the natural world—from landscapes and wildlife to galactic grandeur and microscopic mysteries.
40 West Arts District
1560 Teller St, Lakewood, Colorado 80214

KEY DATES:
Exhibition: June 5th – July 11th
Gallery Hours: Tuesdays through Saturdays, 1-4pm, plus additional dates & times as listed at 40westarts.org
Friday, June 5th, 2015: Opening Reception, 5:00-7pm at 40 West Gallery—all part of Lakewood's INSPIRE! Week
Wednesday, June 24th, 2015: 5:30-7pm 40W 4th Wednesday
SHOW ARTISTS:
Eric Anderson (ericanderson602.wix.com/artist)
Steven August
Dave Barry (barrypro.com)
Diane Bauerle (dianebauerlefineart.com)
Carolyn Berry (carolynberryart.com)
Caley Bovee (caley.smugmug.com)
Marcia Brill
Ronald Burnett
John Byerlein
Tobias Centeno
Nicole Collins
Dorothy DePaulo (FineArtbyDePaulo.com)
Heather Diamond (DiamondPhotoGallery.com)
Bob Dougherty
Dave Dunda (elpc.zenfolio.com)
Gail Firmin (gbfirmin.wix.com/acornucopia)
Jane Glotzer (PlainJaneDesignBoulder.com)
Barbara Gal
Reed Gorner
Cindy Haase (cynthiahaase.com)
Karen Hartman
Leah Hendricks (LeahHendricksFineArt.com)
Stephanie Herrington
Christy Holland (christy10185.wix.com/chollandphotography)
Katie Kirkland (katiekirklandart.com/)
Robert Kreda
Carol B Lehman
Nan Lund (nanlundart.weebly.com)
Emily Marino (emilymarino.com)
Jim Miller
Kathy Mitchell-Garton (KathyMitchellGarton.com)
Jill Mustoffa (JillMustoffa.com)
Bruce Nall
Robert Newman (StrayImages.com)
Marcia Nowak
Tracey Painter (RebelliousArtDenver.com)
Elizabeth A. Potts (ElizabethPottsArt.com)
Heidi Royalty (heidiroyalty.com)
Miranda Samon
Greg Sada
Valerie Savarie (ValerieSavarie.com)
Wendy Scheck (LiquidMetalCoatings.com)
Chelsea Seigneur (ChelseaSeigneur.com)
Michele Sires-DeLorean (NaturalInstinctsArt.com)
Kathy Snead (KathySneadPhotography.com)
Greg Squires
Diane Sutschek
Ken Takahashi (artlandscapes.blogspot.com/)
Pati Tyler
Candy Vallado
Veronica Van Beek
Coreen Zuniga (CoreenZuniga.com)
Good Thieves Press is happy to announce Robot3, our 3rd annual Robot Art Show!
Technology has infiltrated our lives, getting through the day without feeling its impact has become impossible.
The machines are alive!5.30.15 – Opening Reception, 5-10p
6.13.15 – Open hours, 1-5p
6.19.15 – Closing Reception, 5-10p
6.21.15 – Art pick up, 2-6p
Additional gallery hours by appointmentThanks to our sponsor jb accountants, llc
"Accounting, bookkeeping, taxes
we make it easy!"Participating artists:
Josh Davy
Mandie Erickson
Kendra Fleischman
David Lukens
Chris Mandel (aka Cloudless Rain)
Cee Martinez
Ann McDougal Eckman
Tommy McLaughlin
Jill Mustoffa
Bruce Nall
Duncan Parks
Benjamin Perow
Danny Right
Thomas Scharfenberg
Daniel Sorensen Studios
Ashley Stoddard
Kenton Visser
& The Good Thieves
"it's all here in black and white (figuratively speaking)"
a month of photography show
tbellphotographic studio|gallery
march 20 – april 4, 2015
we're pleased to announce the photography exhibit, "it's all here in black and white (figuratively speaking)." this is a juried group show, and the third month of photography (MoP) show presented by the gallery. we are excited to reprise this concept which honors the fine art of black and white photography. the 2015 show will be an official part of the biennial month of photography.
 Denver, colorado, USA is a key city during the world-wide MoP event which celebrates contemporary photography and installation-based media through hundreds of collaborative public events in denver, the region and in other national and international locations during march and april 2015.
juror:  rupert jenkins, executive director, colorado photographic arts center
curator:  terri bell, artist/gallerist, tbellphotographic studio|gallery
artists selected for the exhibit:
jody akers – denver, CO
george beggs – boulder, CO
paul r. bender – lakewood, CO
marina black – toronto, ontaria, canada
michael j. callaghan – san francisco, CA
renee reiko campbell – colorado springs, CO
pinque clark – boulder, CO
francis crisafio –  pittsburgh, PA
mark dolce – denver, CO
jason maloney – aurora, CO
jill mustoffa – wheatridge, CO
hannah page – thornton, CO
aaron paul – lakewood, CO
jason paul roberts – highlands ranch, CO
paul rose, lakewood – CO
ashlae shepler/leah gose, denver – CO
philip thomas waters, evergreen – CO
(please click images at left for an expanded view of each show selection. exhibit imagery can also be viewed on flickr.)
in addition to the exhibited photographs, 20 images of merit, were selected by the juror as "portfolio [+20],"  and 6 images of merit were selected by the curator as "portfolio [+6]."  please click the links provided to view these additional portfolios. all 47 images are a part of the exhibit catalog.
thanks to everyone who entered imagery for this exhibit!  it was a complex and inspired pool of work from which to select the show.
events and show hours: opening/artists reception march 20, 6-9 pm  juror's presentation- april 3, 7:00 pm
The exhibit catalog: the exhibit catalog is available via blurb, which includes information about the show, artist statements, the juror's statement and imagery from the show. please click the image below to be directed to preview and purchase options on blurb.com:  http://www.blurb.com/b/6058710-it-s-all-here-in-black-and-white-figuratively-spea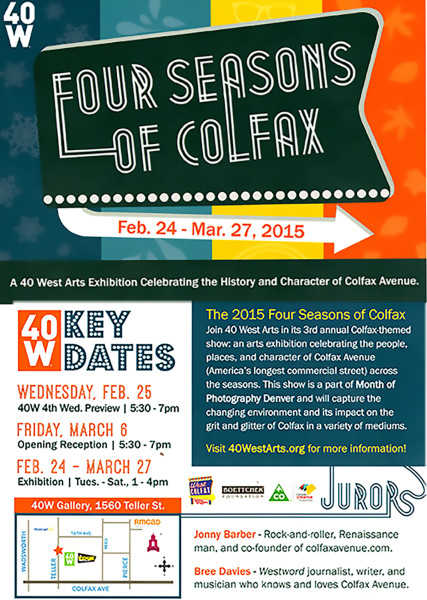 40 West Arts, 1560 Teller, Lakewood, CO  80214    303-275-3430
February 24 Kick-Off – The 4 Seasons of Colfax Exhibition

Join 40 West in its 3rd annual Colfax-themed exhibition, celebrating the events, history, and character(s) of Colfax Avenue (America's longest commercial street) across the seasons. Exhibition dates: February 24th – March 27th on Tuesdays through Saturdays, 1-4pm.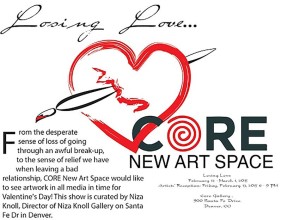 February 12 – March 1, 2015
Artists' Reception: Friday, February 13, 2015 6 – 9 PM
 900 Santa Fe Drive, Denver CO 80204
 Thursday: 12-6pm, Friday: 12-9pm, Saturday: 12-6pm, Sunday: 12-4pm | 303.297.8428
Are you not in the mood for the treacly, sweet Valentine's Day weekend of happiness and couple-dom? Come on down to CORE tonight to celebrate the manifold miseries of LOSING LOVE! This national show was curated by our Co-Director DC Kelly, and juried by Niza Knoll of Niza Knoll Gallery on Santa Fe Dr. We are featuring stellar work by the following artists:
Timm Hoff, Susan Omoto, Jessica Loosenort, Katherine Johnson, Lydia Young, Heather Foster, Trevor Marrs, Tara Kopp, Scot Nobles, Rebecca Moseman, Laura McCracken, Arthur Kobin, Jennifer Feagler, Jennifer Ivanovic, Linda Ross, Becca Waugh, Katie Hoffman, Jill Mustoffa, Michael DeVore, Ronnie Cramer, Katheryn Russ, Jamie Shaffer, Jennifer Thoreson (Hudson), Teresa Jarzynski, Juliette Belmonte, Judy Walgren, Diane Burchett, Meg Voight Meersman, Sam Haring, Debbie Baer, Deborah Williams, Corbie Leiker, Jeffie Brewer, Erin Ferrell, Carol von Michaelis, Andrea Edwards, Amy Banks, Tim Mooney, and Jim Lustnader.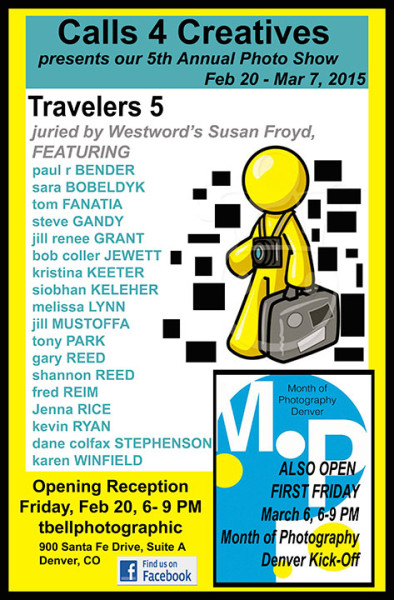 Calls 4 Creatives invites you to our 5th Annual Juried Photography Show, Travelers 5.
Our 2015 show was juried by Westword Arts and Culture Editor, Susan Froyd. Calls 4 Creatives Founder Sharon Meriash will curate the show in a new host gallery tbellphotographic owned by award winning photographer Terri Bell. The gallery is located in the heart of Denver's hottest art district, Art District on Santa Fe.
The show will also be a part of Denver's ever popular Month of Photography.
Over 100 submissions were reviewed by Ms Froyd and we are proud to announce 18 artists with 25 images were selected to be this year's "Travelers".
Congrats to the following Photographers!
Melissa Lynn :: Sara Bobeldyk :: Tom Fanatia
Steve Gandy :: Siobhan Keleher :: Jenna Rice
Dane Colfax Stephenson :: Shannon Reed
Jill Renee Grant :: Bob Coller Jewett :: Paul Bender
Kristina Keeter :: Kevin Ryan :: Karen Winfield
Jill Mustoffa :: Gary Reed :: Fred Reim :: Tony Park
***Please note Travelers 5 has 2 Receptions. Feel free to attend one or both! Bring your friends and share! ***
Venue:
tbellphotographic,
900 Santa Fe Drive, studio a
Denver, CO
Show Dates: Friday, Feb 20 – Sat, Mar 7, 2015
Receptions:
Opening Reception with Awards:
Collectors' Third Friday, 2/20/2015, 6 – 9 PM
AND
MoP First Friday Artists Reception:
3/6/2015, 6-9 PM
To learn more about the Travelers Photographers visit:
https://www.facebook.com/pages/Travelers-5/1470541306527444?ref=hl
To learn more about Month of Photography Denver visit: http://www.mopdenver.com/about/
You decide Erotic or Beyond
13 artists from Denver and beyond push this question to the limit at Next Gallery
Opening Reception: Friday, January 30th 6 – 10 pm
Participating Artists: Dave Seiler, Jill Renee Grant, Jill Razer Mustoffa, Joel Velt, John Babcock, Nikki Vail, Peter Yumi, Ruben Gaucin, Sarah Rockett, Steven Schaffner, Valerie Savarie, Veronica Franklin, Dan Ma and D.B. Michelle
A re-invitational of the original show displayed at Next Gallery in 2013, Beyond Erotic II, will again have participating artists pushing the limit of what we consider erotic and all the artists have risen to the occasion to produce works that challenge the viewer to decide what is erotic or beyond. The challenge again this year is to have the viewer encounter the taboo of sexuality with humor, social commentary, personal choice and the subversion of expectations. The participating artists bring to the forefront their interpretations of the erotic through painting, sculpture, photography and media. Showing in conjunction with NEXT Associate Member Adrienne DeLoe.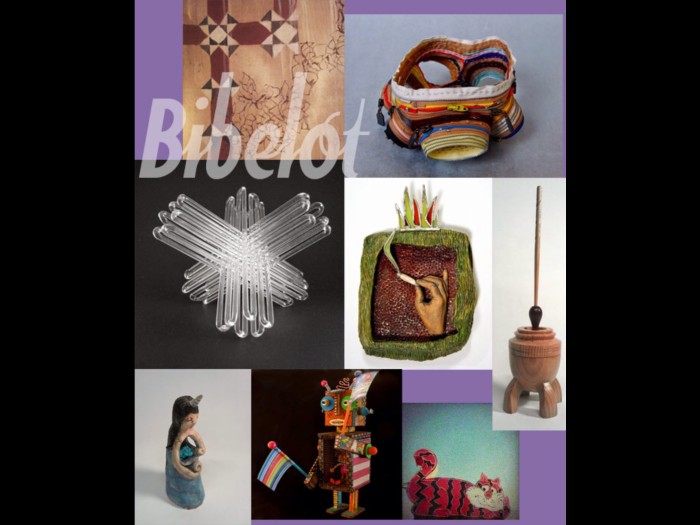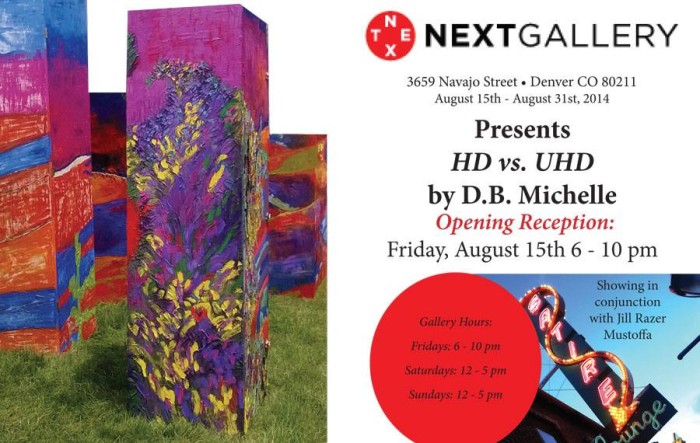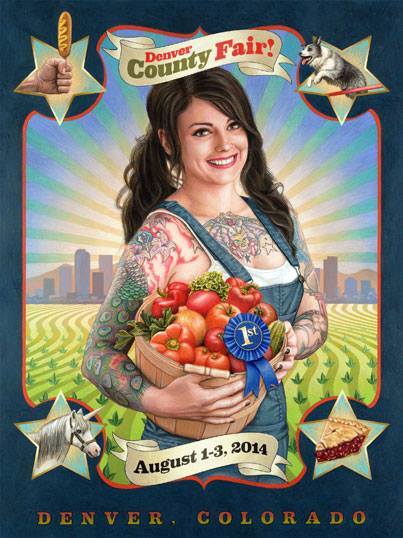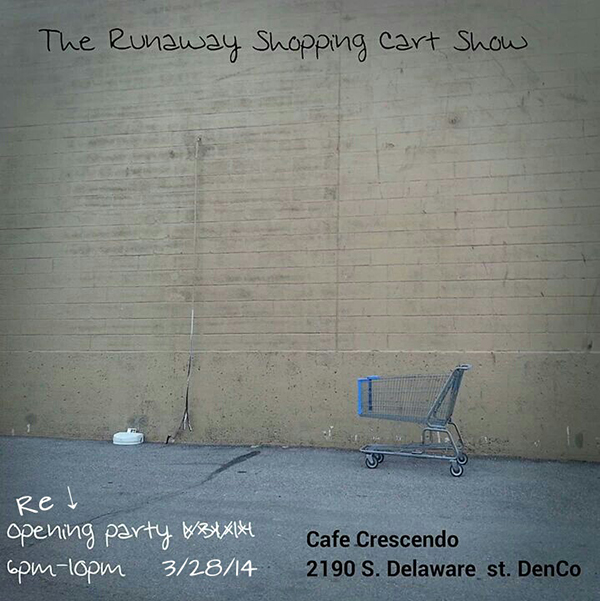 The Re-Opening
The Runaway shopping Cart Show
Cafe Crescendo
2190 S. Delaware st DenCo
Sante Fe light rail Evans exit
Opening Reception
Fri. Mar 28,2014  6-10pm
Show runs Feb 1 –  Apr 31
Curated by Erik Isaak
Photos by Jill Mustoffa & Robby Fields
I notice them everywhere and I'm compelled to capture the image.
To the point of turning my car around.
You will never look at a cart the same ever again.
On Instagram: Jill @OneMust created the tag #runawayshoppingcart & Rob @RobFields911 created  #badcartintimeout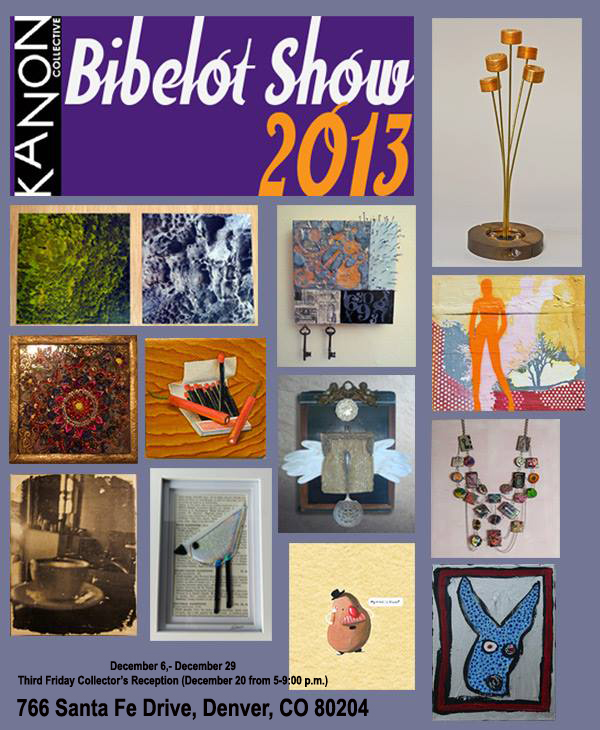 Please join us for our annual Bibelot Show and Holiday Pop-up Mart on Third Friday, Dec. 20, from 5-9pm
Bibelot: from the French word meaning a small object of curiosity, beauty, or rarity.
This show was juried by Dana Cain
Our annual Bibelot show features the beauty of small, affordable works by local artists. We have everything from sculpture and jewelry to painting and photography. This is a great time to pick up some original gifts for the holidays. Not only will you find something unique, but you will be supporting local artists and businesses. In addition to all the wonderful art, we will also have several local artists who are participating in our Holiday Pop-up Mart. So, stop by, have some refreshments, enjoy the Luminaria festival in the art district, and see some amazing art!
_______________________________________
See you on Friday!
Kanon Collective, 766 Santa Fe Drive
www.kanonart.com
Also on Facebook at: https://www.facebook.com/pages/Kanon-Art-Gallery/123512540993021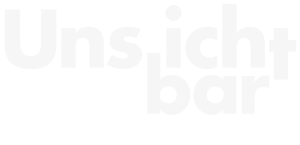 13. September /13th of September
 "Unsichtbar"
Exhibition opening /Ausstellungseröffnung    
Ausstellungsort, Exhibitionspace  
"Westwerk" Hamburg , Germany
Admiralitätstraße 74  20459 
Hamburg
Opening time: 7pm/19h
Participating artists
Teilnehmende Künstler:
Thomas Draschan, Sabine Flunker, Hartmut Gerbsch, Janne Höltermann, Alexander Hacke, Anja Huwe, Jill Razor Mustoffa, niedervolthoudini, Danielle de Picciotto, Kai Teichert, Philip Toplovac, Olga Volchkova, Tina Winkhaus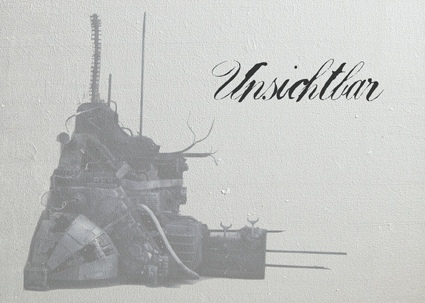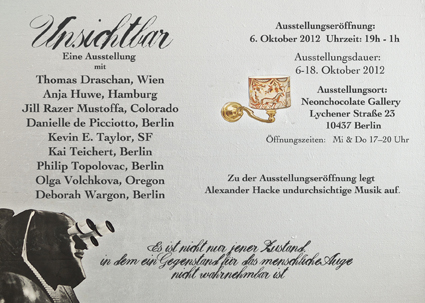 Invisible
OPENING: SA. 06:10:12 – 19 CLOCK
LOCATION: Neonchocolate GALLERY
Lychener Straße 23, 10437 Berlin, Germany
ARTIST: Thomas Draschan / Anja Huwe / Jill Razer mustoffa / Danielle de Picciotto / Kevin E. Taylor / Kai Teichert / Philip Topolovac / Olga Volchkova / Deborah Wargon
Invisibility in our life is of great importance. It is not only that state in which an item to the human eye is not perceptible in the transcendental sense also natural objects and most mental processes are invisible. The effect of this "ghost" is very re
al. They influence our world much more than the visible.In the exhibition "Invisible" to sit nine international artists deal with the fact and effect of invisibility – whether in the social, political, or abstract – the results are fascinating.Opening of the exhibition puts on 
Alexander Hacke
 obscure music
VERNISSAGE: SA. 06.10.12 – 19 UHR
ORT: NEONCHOCOLATE GALLERY
       Lychener Straße 23, 10437 Berlin, Germany
KÜNSTLER: Thomas Draschan / Anja Huwe / Jill Razer Mustoffa / Danielle de Picciotto / Kevin E. Taylor / Kai Teichert / Philip Topolovac / Olga Volchkova / Deborah Wargon
Unsichtbarkeit ist in unserem Leben von großer Bedeutung. Es ist nicht nur jener Zustand, in dem ein Gegenstand für das menschliche Auge nicht wahrnehmbar ist, im transzendenten Sinn sind auch übernatürliche Dinge und die meisten geistigen Vorgänge unsichtbar. Die Wirkung dieser "Geister" ist aber sehr re
al. Sie beeinflussen unsere Welt weitaus mehr als die Sichtbaren.In der Ausstellung "
Unsichtbar
" setzen sich neun internationale Künstler mit der Tatsache und Wirkung von Unsichtbarkeit auseinander – ob im Sozialen, Politischen oder Abstrakten – die Ergebnisse sind faszinierend.Zur Ausstellungseröffnung legt 
Alexander Hacke
 undurchsichtige Musik auf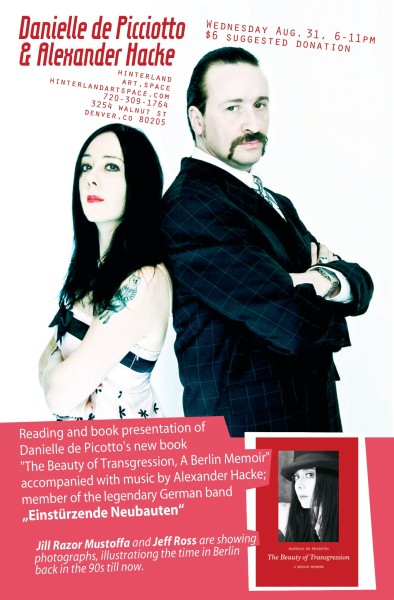 HINTERLAND is pleased to host the reading and book presentation of Danielle de Picciotto's new book " The beauty of Transgression, A Berlin Memoir" accompanied with music by Alexander Hacke member of the legendary German band "Einstürzende Neubauten".
Jill Razor Mustoffa and Jeff Ross will be showing photographs illus
trating Berlin during the 90s and now.
Wednesday August 31, 6 – 11p
Suggested Donation $ 6.
Hinterland is located at 3254 Walnut Street in the Rino Art District.THE BEAUTY OF TRANSGRESSIONToday, Berlin is celebrated around the world as a magnet for creative talent. But many people do not know or have forgotten how this came to be. In the 1980s, the island city surrounded by the Wall was a sanctuary for musicians, artists, avoiders of West Germany's mandatory military service, and other outsiders, who were inspired by Berlin's distinct atmosphere. Berlin winters were cold, long, and especially delirious. When the …Wall fell, an unparalleled vacuum of authority was created that further fueled the city's already uniquely free creative climate.more at
danielledepicciotto.com